Asian-American Forum
Autumn 2013 Issue no. 19

Editor Note: The editor has decided to include articles submitted to Asian Pacific Americans for Progress (http://www.apaforprogress.org) in this seasonal newsletter. Any cross-posted articles may be identified by name and date submitted, and the reprints here will serve to verify authorship. The particular blog can be accessed here: http://www.apaforprogress.org/blogs/chriswong. To read environmental technology articles published at the Examiner.com, visit http://www.examiner.com/green-technologies-in-washington-dc/christine-kroll. Thanks for your ideas and continued support!


Gentrification Engulfing Chinatowns: Part 1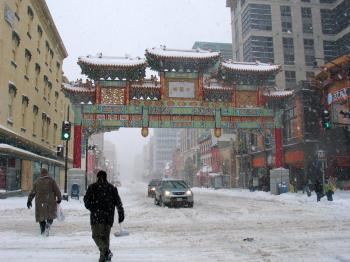 Washington D.C. Chinatown.(Image by Ronny Dory/The Epoch Times)
When I visited my grandmother in the 1990s, she lived in a subsidized housing project near Washington Street in Chinatown San Francisco. She was happy that she could live semi-independently, but among people who shared common interests. My relatives could easily check up on how she was doing, and help her buy groceries from nearby.
Now, all of that is changing at a pace we cannot have foreseen.
During the Literary Arts & Performance Poetry (LAPP) Festival 2013 this year in Washington, D.C., film director and producer Yi Chen offered a film screening of "Chinatown," a documentary of DC residents' ongoing battle against closure of Wah-Luck House. The filmmaker examines the life-styles of Chinatown residents at Wah-Luck, such housing projects once a relatively common phenomenon in U.S. cities, even in Chinatowns.
Historic ethnic enclaves have become the object of the latest urban housing bubble, called "gentrification," with the ethnic or native residents being supplanted and having to move elsewhere. This has happened in Harlem, to the artist community in San Francisco, and anywhere else where ethnic roots ironically have become the magnet for corporate commercialization.
Yi Chen depicts Wah-Luck House in "Chinatown" as the symbol of the struggle in changing microcosm. From a sentimental perspective, the larger issue of small, locally owned businesses pitted unfavorably against corporate franchises goes almost unnoticed.
However, the changes enacted by D.C. zoning ordinances and planning has raised the ire and passions of many. Since the 1970s, area Chinese-owned family and residential population have declined over 200 percent. There are no longer any significant Chinese grocery stores. Earlier this year, Asian Fortune's Dottie Li published several articles on the controversy with the Metropolitan Police Department's closing of the Liaison office. Ironically, the transformation has enriched D.C.'s coffers.
Gentrification is happening not just in the Washington, D.C. community, but also in many large urban cities. Urban sustainability planners in many metropolitan cities claim that it revitalizes neighborhoods, attracting wealthier shoppers and residents. They like to point out that planned developments comply with green building standards.
But how much of planned redevelopments are actually affordable? If the planned Wharf development near Waterfront Metro provides any indications, only a small fraction of the upscale condominium and apartment buildings will be affordable studios.
Finding affordable housing in DC is becoming as challenging as in New York City (NYC), where low income and low class are taken for a conundrum. While DC has a more forgiving atmosphere due to proximity to national non-governmental organizations, newspapers such as Streetsense struggle to elevate local consciousness on the realities of poverty, limited economic opportunities, and injustice.
Add to this many college students travel to study and work in the D.C. Metro area, and so a fraction of housing must be set aside for dormitories. Yet when one studies the apartment listings, there are glaring scarcities in affordable housing. Decent single bedroom apartments are up to 2000 per month, and applicants (without co-signers) are required to submit statements demonstrating they earn twice that amount per year.
With lower-income class definitions translating into anyone earning less than 50,000 per year, who are the new sustainable megacities being designed for? Clearly, it is not for traditional Asian immigrants or those who struggle to make ends meet and who are grateful to be able to locate semi-independent communal housing for their elderly.
(In Part 2, the author will explore the parallels with a shrinking Chinatown in Manhattan).
Resources:
Chen, Yi. "Chinatown Official Trailor." YouTube.com.
LAPP Fest 2013. Asian American Pacific Islander Literary Arts & Performance Poetry Festival, 2013.
DC Chinatown Documentary Project. Chinatown Project, Facebook, 2013.
"Chinatown-Washington." Yelp.com, 2013.
Li, Dottie Tiejun. "D.C. Police Chief and Chinatown Leaders Spar Over HQ Closing." Asian Fortune News, 2013.

Gentrification Engulfing Chinatowns: Part 2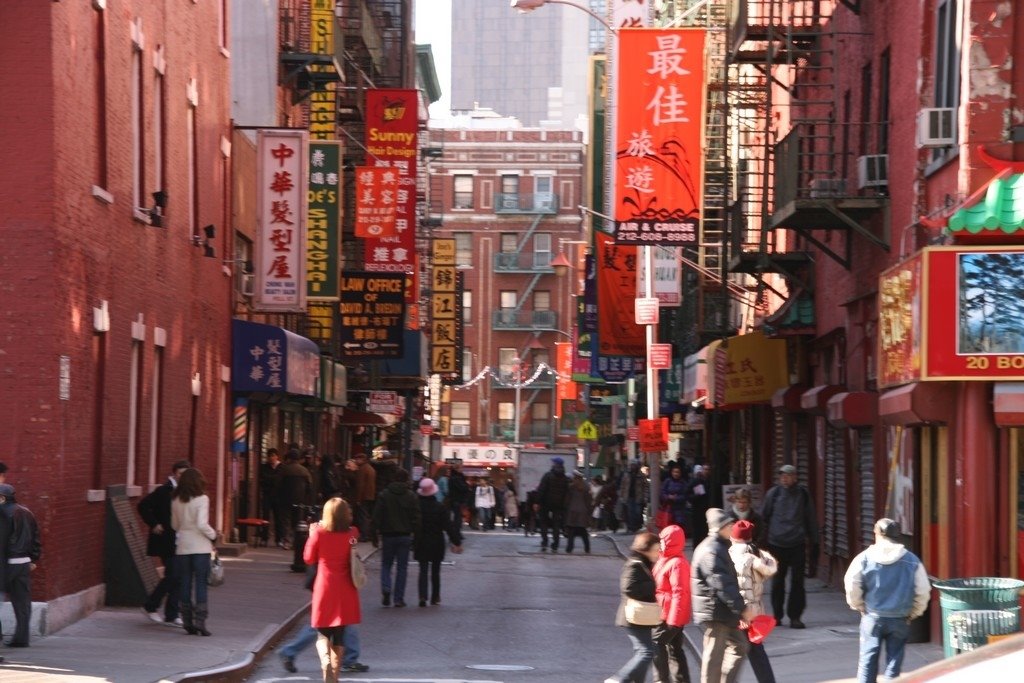 New York City Chinatown.(Photo by B47/Google Maps)
Founded in 1986, the Committee Against Anti-Asian Violence (CAAAV) has historically mobilized against racially motivated violence against Asian communities. CAAAV's projects have included grassroots leadership and organizational training for Asian Pacific Americans. It has embraced urban justice issues in recent campaigns.
One example has been its committment to protecting the rights of working class tenants in ways which are participatory, with consideration issues complicated by poverty, exploitation, deportation and detention, and criminalization of youth and workers.
An outgrowth from the Chinatown Justice Project, since 2005 its Chinese Tenants Union has helped ease tenant challenges in the face of eviction, harassment, and gentrification concerns. Sister organization Asian American Friends (AAFE), while geared towards semi-literate English speakers, has also helped foster awareness when landlord unfairly evicted residents living near Wyndam Garden Hotel.
The importance of community organizations is reflected indirectly in homeless statistics. According to the Coalition for the Homeless "homelessness in New York City has reached the highest levels since the Great Depression of the 1930s."
As of September 2013, the record level of homeless persons in shelters has reached 52,351 persons per night.
For too many, the scale and scope of underemployment and lack of affordable housing is an uncomfortable reality, whether it is seeking shelter on a Code Blue night, having to sleep at Central Park, in a subway tunnel, or even a substandard ministorage unit.
According to the Coalition (under basic facts):
Research shows that the primary cause of homelessness, particularly among families, is lack of affordable housing...at the same time that wages for low-income New Yorkers have stagnated or fallen...
Gentrification is also taking its toll in one last affordable outlay of lower Manhattan--old Chinatown. CAAAV's Rezoning Campaign notes that in the past decade:
Rents have skyrocketed
Families are forced into overcrowded apartments or shelters
Landlords are harassing and evicting long-time residents
Small businesses are closing due to rising rents, and many jobs have been lost
Community programs and services are being cut
Long-time residents are being harassed by the police
The implications are worse when contrasted with how "the City is giving developers incentives to demolish buildings and build luxury condos and hotels."
In "Activists Say Chinatown Should Get Special Zoning," Larry Tung explains:
Chinatown was one of the areas of the city hardest-hit by the 9/11 attacks. The neighborhood was blocked off for weeks and many restaurants and gift shops went out of business. But the economic bounce-back has been problematic as well: In the last few years, major development projects can be seen everywhere in Chinatown and its immediate area, ranging from clothing boutiques, bars and restaurants to luxury condos and hotels. This trend has raised concerns in the Chinatown community.
CAAAV's report "Reimaging Rezoning" included surveys on impacts for small businesses. According to Mr. Huang, owner of S & J Grocery Inc:
"It's becoming more and more unaffordable to run my business, mainly because my rent has increased a lot, which makes business here harder and harder. We really need to fix the rent situation--it increases too fast and by too much."
Yet according to the Asian American Federation, the Asians are now 13.9% of the NYC population. However recent immigrants are establishing more protective ethnic enclaves outside of Manhattan, where many own or work in small businesses. According to the U.S. Census Bureau, between 2000-2010 Asians, the populations of children and seniors grew the most, with rates of poverty, limited English proficiency, and no medical insurance coverage afflicting certain Asian groups more than others.
As immigration helps to fuel the new urban development bubble, in a dramatic reversal from the 1970s, more working class poor and ethnic immigrants are being forced out to the suburbs due to economic pressures. In contrast, higher income bracket people are being lured into the attractions of no commuting, low carbon footprint, energy efficient, socially wired, luxury apartment homes.
This is one reason why a variety of NYC bloggers and journalists, advocacy groups and neighborhood organizations are reporting on, discussing, and coordinating ways to preserve and promote housing which is truly affordable. Based on survey data, CAAAV advocates the setting aside of up to 50% for affordable housing units in developments and amending the definition of "affordable housing" to include people with very-low to extremely-low incomes. Hopefully the needs of area residents are reasonably addressed in ways that control redevelopments based upon mapped preservation priorities.
Affordable rent representation is especially important for those who have been traditionally marginalized when negotiating with City Planning.
As one commentator remarks at "Chinatown for Chinatown" blog:
If only the sustainable market forces were balanced. But they're not. Gentrification is an opportunistic tide that, once it gains an entry, will flood the locality resistlessly. To use urban planning to help the juggernaut of monopolistic market forces is unnecessary. The empowered need no help.
CAAAV produced documentaries such as "Our Homes, Our Rights" illustrates just how dire, amid growing populations of mixed class residents, the situation has become.
Gentrification Engulfing Chinatowns Parts 1 & 2 prepared by Christine H. Kroll, copyright © 2013

Resources and Sources Cited:
Amos, Robert and Kileasa Wong. Inside Chinatown. Victoria, BC: Touchwood Editions, 2010.
"Resources." Asian American Federation. 2011. Web. 2013.
Asian Americans for Equality. AAFE.org. Web. 2013.
"Basic Facts About Homelessness." Coalition for the Homeless. Web. 2013.
Committee Against Anti-Asian Violence. CAAAV.org. Web. 2013.
"Chinatown for Chinatown: a discussion board." Blog at Wordpress.com. Web. 2013.
Tung, Larry. "Activists Say Chinatown Should Get Special Zoning." Feet in 2 Worlds, 06 Dec. 2011. Web. 2013.
Tung, Larry. "Chinatown Looks for a Way to Survive and Thrive." Gotham Gazette, 20 Apr. 2009. Web.
Velsey, Kim. "Living in a Chickenwire Cage." New York Observer, 08 Aug. 2013. Web.

Hands off Syria March on Capitol Hill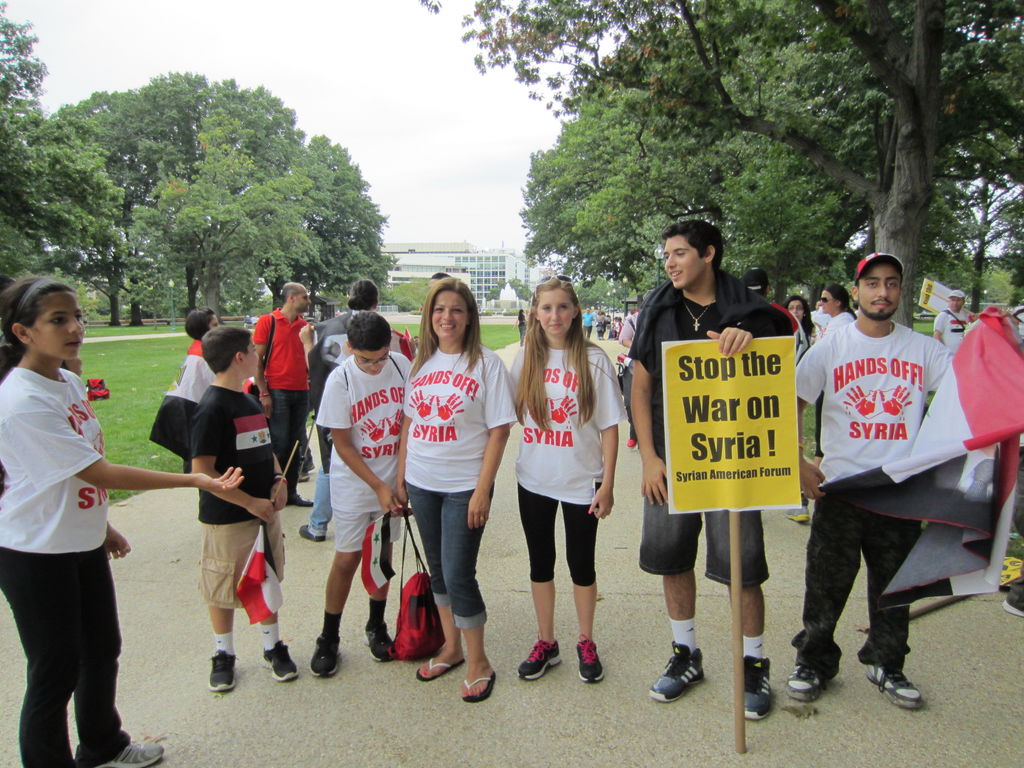 &nbsp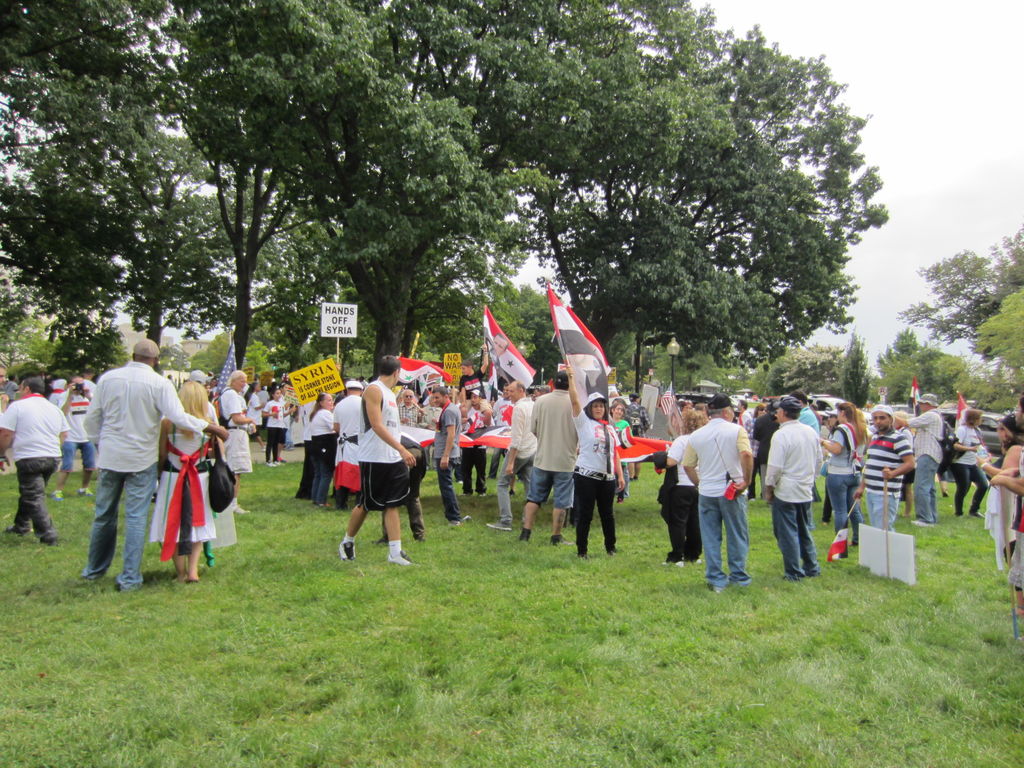 Photos by Columbiapress.org
On September 9, 2013 beginning at noon, a large group of protesters marched from the White House to Capitol Hill to convene against the possible new war in Syria.
Syrian-American Forum (SAF), an organization that supports a democratic and secular Syria sponsored the "Hands off Syria" march and rally with over 400 protesters throughout the day.
Amid the crowd were also a few protesters from Answer Coalition, and even a Catholic nun who offered up a prayer that President Obama and others would seek ways of peace and reconciliation.
Asked where demonstrators had traveled from, one of the matrons told this reporter that they had come from as far away as L.A., Chicago, Michigan, New York, New Jersey, and Pennsylvania.
A group of teenagers took turns explaining to this reporter their beliefs against intervention:
"So many people here [US] have been hired to go over to Syria to kill our people, and that is tragic...and a lot of people are dying every single day," stated Laura.

"Where is the proof that Bashar used chemical weapons?" Christian and his friend asked repeatedly.

"What money do we [US] even have to start a war there?" asked one teenaged girl, "We don't even have money to fund our schools and we are going to send troops over there. If we have our going to spend money to kill kids, what is that going to do?

Asked if they thought if the rebels are coming from outside the country, their responses included:
"They are from other countries....When we catch the people who are trying to shoot, it ends up they are not even Syrian," said one seventeen-year old boy.

The teenagers were mostly American-born Syrians, but a few had been born in Syria and moved here as young children. They also expressed their fears and concerns for loved ones overseas, relatives they knew or their parents communicated with.
Later, a gentleman handed me a leaflet containing press releases. One statement read:
The credibility of the US will be substantially empowered by showing the world that the US is, once and for all, an honest broker of peace and justice, not by bombing yet another Middle Eastern country that was never a threat to US national security.
The violence has already placed many lives in peril. According to reports by the United Nations Office for the Coordination of Humanitarian Affairs:
The numbers of Syrians affected by the conflict have grown rapidly, with more than 4.2 million people displaced within their country and another 2 million who have fled to other countries in the region.
With crumbling social infrastructure and people whose lives have been reduced to refugees, it seems to make precious little sense to exacerbate on-the-ground conditions by more bombing unless the goal is in fact to achieve regime change.
This is what a handful of geopolitical pundits are speculating about on U.S. goals in Syria.
According to Michael T. Clare, author of The Third Carbon Age, and Blood and Oil, the U.S. seems determined to continue to pursue a policy of dominating the oil resource markets through geopolitical, financial, and military institutions:
To ensure the safety of its overseas sources of supply, Washington has established tortuous relationships with foreign oil suppliers and has fought several costly, debilitating wars in the Persian Gulf region...
In RT's Crosstalk show "Playing Syrian Poker" which aired on Sept. 20, 2013, Eric Draitser of StopImperialism.org discussed the strategic implications in a Brookings Institute report by Daniel L. Byman, Michael Doran, Kenneth M. Pollack and Salman Shaikh. Draitser argued:
They lay out the case very clearly...that the conflict in Syria is about regime change. And it is about strategic interests--the strategic interests of Washington, the strategic interests of Israel, the strategic interests of the Saudis and the Qataris...
According to host Peter Lavelle, once the chemical weapons issue is resolved, it will be business as usual with more war and carnage.
In fact, a report by the Congressional Research Service, "Possible U.S. Intervention in Syria: Issues for Congress," laid out the costs at hundreds of millions of dollars in humanitarian assistance and billions of dollars in defense:
General Dempsey also estimated that destroying portions of Syria's chemical weapons stockpiles could require more than a billion dollars a month because "hundreds of aircraft, ships, submarines, and other enablers" and "thousands of special operations forces and other ground forces" would be needed to secure critical sites. To conduct limited stand-off strikes on important military forces or units (e.g., air defense, ground), military facilities, or headquarters, an option mentioned frequently in current press reports, General Dempsey estimated the cost could be "billions" depending on the duration.
Thus it appears that the pursuit of controlling fossil fuels is not only ushering in a new era of investment in unconventional fossil-fuel extraction and distribution that will vastly outpace spending on renewables but may result in a continuation of Bush-era style war spending---not to mention contributing to nascent conditions for future mass extinction.
Another unmentioned effect of a new war will also be increased surveillance and monitoring expanded from Muslim and SE Asians to include Christian-Syrian, Lebanese, and Jordanian- Americans.
Sample on-the-ground report by Christine Kroll, copyright © 2013, Columbiapress.org
Flashbacks on Triangle Fires and Rana Plaza
Video from "The Clothes on Your Back" series by the Toronto Star, October 12, 2013
No one who has taken a course in Women's History is unfamiliar with the with 1911 Triangle Shirtwaist Factory Fire. During the turn of the last century, many immigrant women considered themselves fortunate to work in one of over 450 textile factories in Manhattan. It took the Triangle Factory Fire, however, to focus the nation's attention upon garment workers' unsafe workplace conditions.
The Triangle Shirtwaist Factory Fire of 1911 caused onlookers to gasp in horror as approximately 146 workers jumped to their deaths, or were trapped in locked down upper floors that became engulfed in flames. Clara Lemlich, of the International Ladies' Garment Workers Union (ILGWU), argued for better pay and working conditions. Francis Perkins headed the New York Committee on Public Safety, and as the first female Secretary of Labor under President Franklin D. Roosevelt, wrote the laws providing for minimum wage and Social Security. This also gave rise to the founding of the American Association of Safety Engineers.
Small wonder that labor union activists are comparing 2012 & 2013 textile factory fires in Karachi,1 Pakistan and Dhaka,2 Bangladesh which have killed scores of workers to the Triangle Factory Fire. According to the Institute for Global Labor and Human Rights,3 these were preventable sweatshop factory tragedies. Hundreds of trapped women and children, dazed from overwork, died from suffocation and burns, deprived of even the opportunity to flee their work stations.
Once again, it underscores the critical need for adequate inspections of facilities, and oversight of equipment, health, labor, and safety by the Bangladeshi government--with the unqualified support of the brand name merchants.
Thanks to intrepid investigative press coverage by reporters at the Toronto Star4 and Al Jazeera,5 and non-governmental reports such as by the Institute for Global Labour and Human Rights, public pressure has mounted and forced minimal improvements. However, this came too late for the 1133 garment workers,6 many women and children, killed in April 2013 following the Rana Plaza building collapse in Dhaka.
The most obvious improvements appear to be recent offers for higher wages7 by a small percentage of the estimated 4500 official factories, although lower than what had been pushed for by workers. Earlier this year in June, President Obama did announce he would suspend Bangladesh's duty-free export privileges; however, since the garment industry is not duty-free, this move is largely symbolic.8
Workers compensation for (wrongful) factory deaths remains under compensated, if at all. The International Labor Organization (ILO), supported by IndustriALL and by UNI Global Union, are convening compensation negotiations, offering skills training,9 and promoting the Bangladesh Accord on Fire and Building Safety.10 Signing the Accord was also promoted by 123 responsible investors "representing more than $1.2trn (€933m) in assets under management" who signed an Investor Statement on Bangladesh.11
So far, the Accord on Fire and Building Safety in Bangladesh aka. Bangladesh Accord12 has been signed by over 100 apparel corporations, but multinationals such as Gap, and Walmart have worked to distance themselves from its former subcontractors, while putting forth their own Alliance for Bangladesh Worker Safety.13
The Alliance, which includes global retailers such as Macy's, Costco, Sears, Target, Kohl's, J.C. Penney, and even L.L. Bean, according to non-governmental trade organizations, is a step in the right direction. However, compliance is merely voluntary or legally non-binding14 when compared with the Accord.15 Furthermore, giant corporation Walmart, whose clothing labels were found at the Tazreen Fashions factory16 fire and amid the rubble from the Rana Plaza building17 collapse, has only sought subterfuges18 in distancing itself from its subcontractors, absolving itself of any kind of legal and especially financial responsibility.
Instead of addressing the immediate concerns of victims' families and injured survivors, Walmart's response has been evasive, such as offering to "launch a safety training academy"19 and establishing a safety fund for low cost loans20--something which few factory owners have heard much about so far.
In contrast, the New York Times21 reported that among Accord22 signatories:
A handful of retailers...are deeply involved in getting long-term compensation funds off the ground, one for Rana Plaza's victims and one for the victims of the Tazreen fire, which killed 112 workers last Nov. 24.
Compensation by these more noble enterprises have included payout of salaries for victims, factory repairs, and the establishment of a long-term compensation fund for Rana victims and their families which would allow for medical care, counseling, retraining, and education.
So far, Walmart's response23 has been that since subcontractors producing readymade garments (RMG) at Tazreen and Rana were unauthorized, it would not pay any compensation.
This argument against monetary support to victims of safety, labor, and health violations doesn't bode well with watchdog organizations because it flies in the face of a long record of noncompliance. For instance, according to reports by the Institute for Global Labor and Human Rights,24 not much has changed over the past decade or so. Whether it's unsafe or unhealthy work conditions, cheating on overtime pay, abuse of workers, child labor, or slumlord housing, textile workers in developing countries are often told they must "see nothing, know nothing, do nothing."25
According to Human Rights Watch,26 in June 2012 there were only 18 inspectors tasked with monitoring Dhaka's 100,000 factories that employ over 3-5 million textile and tannery workers. Often, any fines have been minimal, so factory owners pay the fines rather than incorporate called-for improvements. To make matters worse, in various countries, would-be union organizers have been beaten, tortured, and murdered. For instance, leaders from the Bangladesh Center for Worker Solidarity (BCWS), an organization of labor rights advocates, were harrassed and jailed.27
The role of the Bangladesh government has been one of siding with factory owners, many of whom are active political party or parliament members. For example, the recent minimum wage increases came with warnings from the Labour secretary of "conspiracies at home and abroad against the garment industry."28
According to Aruna Kashyap in "Bangladesh: The Three Exclusions," poverty and human rights abuses could be alleviated if the World Bank more deeply considered the lifestyles of women, children, and people with disabilities.29 Instead, contracts with local leather tanneries allow them to refuse to even consider treating its effluent before dumping their toxic chemical wastes into the Buriganga River, a river from which Dhakar's residents draws water and life-sustenance.30
What happens abroad will influence America's own ongoing race to the bottom, about which Maine historian Neil Rolde comments: "Some very wealthy people would welcome a return to Bangladeshi ways of treating employees."31
Notes:
Video Clips:
1. "The Clothes on Your Back: Factory Kids," narrated by Rick Westhead, Toronto Star, October 12, 2013, accessed December 20, 2013, Video,
http://www.thestar.com/news/world/clothesonyourback/2013/10/12/bangladeshs_tanneries_make_the_sweatshops_look_good.html
, http://bcove.me/agsx5r7h
2. "Bangladesh: Toxic Tanneries," narrated by Richard Pearshouse, Human Rights Watch, October 9, 2012, accessed December 20, 2013, Video,
http://www.hrw.org/news/2012/10/08/bangladesh-tanneries-harm-workers-poison-communities
, http://youtu.be/kT3xjfxMmoc
Article Notes:
1
. ur-Rehman, Zia, Declan Walsh, and Salman Masood, "More than 300 killed in Pakistani Factory Fires," Asia Pacific, New York Times, September 12, 2012,
http://www.nytimes.com/2012/09/13/world/asia/hundreds-die-in-factory-fires-in-pakistan.html?pagewanted=1&_r=1&
.
2.
Alam, Julhas, "Bangladesh Factory Fire: Disney, Sears Used Factory in Blaze that Killed More Than 100 Workers," Business, Huffington Post, November 28, 2012,
http://www.huffingtonpost.com/2012/11/28/bangladesh-factory-fire_n_2203614.html
.
3.
"Triangle Returns: Young Women Continue to Die in Locked Sweatshops," Institute for Global Labour and Human Rights, March 23, 2011,
http://www.globallabourrights.org/reports/triangle-returns-young-women-continue-to-die-in-locked-sweatshops
.
4.
Aulakh, Raveena, "I got hired at a Bangladesh sweatshop. Meet my 9-year-old boss," World, Toronto Star, October 11, 2013,
http://www.thestar.com/news/world/2013/10/11/i_got_hired_at_a_bangladesh_sweatshop_meet_my_9yearold_boss.html
.
5.
Faultlines, "Made in Bangladesh," Al Jazeera America, August 20, 2013,
http://america.aljazeera.com/watch/shows/fault-lines/Episodes/2013/8/20/made-in-bangladesh.html
.
6.
"No More Factory Deaths," Labour Behind the Label, accessed December 20, 2013,
http://www.labourbehindthelabel.org/urgent-actions
.
7.
Rahman, Mustafizur, and Moloy Saha, "[Ready-Made Garment] RMG minimum wage Tk 5,300 from Dec," New Age, November 15, 2013, Banglanews,
http://bangladeshdue.xoom.it/bangladeshdue/b13/banglanews602en.htm#rmgm
.
8.
"Obama Gets Tough on Bangladesh," Opinion Pages, New York Times, June 27, 2013,
http://www.nytimes.com/2013/06/28/opinion/obama-gets-tough-on-bangladesh.html
.
9.
"Emerging from the ruins of Rana Plaza," ILO Newsroom, International Labour Organization, October 24, 2013,
http://www.ilo.org/global/about-the-ilo/newsroom/features/WCMS_226985/lang--en/index.htm
.
10.
"Accord on Fire and Building Safety in Bangladesh," Images, Clean Clothes Campaign, May 12, 2013,
http://www.cleanclothes.org/img/pdf/accord-on-fire-and-building-safety-in-bangladesh
.
11.
Brooksbank, Daniel, "Bangladesh Disaster: $1.2trn investor coalition calls for zero tolerance of supply chain abuses," Response Global Media,
http://www.responsible-investor.com/home/article/bangladesh_disaster_investor/
.
12.
"Welcome to the Accord," 2013, Accord on Fire and Building Safety In Bangladesh,
http://www.bangladeshaccord.org/
.
13.
"Alliance for Bangladesh Worker Safety," 2013, Alliance for Bangladesh Worker Safety,
http://www.bangladeshworkersafety.org/
.
14.
"Walmart, Gap Announce Safety Pact for Bangladesh Factories," Public Radio International, July 11, 2013,
http://pri.org/stories/2013-07-11/walmart-gap-announce-safety-pact-bangladesh-garment-factories
.
15.
"Signatories," 2013, Accord on Fire and Building Safety In Bangladesh,
http://www.bangladeshaccord.org/signatories/
.
16.
Faultlines, "Made in Bangladesh," Ibid.
17.
Greenhouse, Steven, "U.S. Retailers Decline to Aid Factory Victims in Bangladesh," Business, New York Times, November 22, 2013,
http://www.nytimes.com/2013/11/23/business/international/us-retailers-decline-to-aid-factory-victims-in-bangladesh.html?pagewanted=all&_r=1&
.
18.
Westhead, Rick, "Bangladesh factory owners dispute Walmart claim," World, Toronto Star, November 25, 2013,
http://www.thestar.com/news/world/2013/11/25/bangladesh_factory_owners_dispute_walmart_claim.html
.
19.
Jamieson, Dave and Emran Hossein, "Bangladesh Factory Fire Victim Calls on Walmart to Pay Compensation," Business, Huffington Post, April 12, 2013,
http://www.huffingtonpost.com/2013/04/12/bangladesh-factory-fire-walmart_n_3071974.html
.
20.
Westhead, Rick, "Bangladesh factory owners dispute Walmart claim," Ibid.
21.
Greenhouse, Steven, "U.S. Retailers Decline to Aid Factory Victims in Bangladesh," Ibid.
22.
"Welcome to the Accord," 2013, Ibid.
23.
Greenhouse, Steven, "U.S. Retailers Decline to Aid Factory Victims in Bangladesh," Ibid.
24.
"Bangladesh...Ending the Race to the Bottom," Institute for Global Labour and Human Rights, October 01, 2001,
http://www.globallabourrights.org/reports/bangladesh-ending-the-race-to-the-bottom
.
25.
"See Nothing, Know Nothing, Do Nothing," Institute for Global Labour and Human Rights, May 10, 2012,
http://www.globallabourrights.org/reports/see-nothing-know-nothing-do-nothing
.
26.
"Bangladesh: Tragedy Shows Urgency of Worker Protections," Human Rights Watch, April 25, 2013, accessed December 20, 2013,
http://www.hrw.org/news/2013/04/25/bangladesh-tragedy-shows-urgency-worker-protections
.
27.
"Bangladesh Center for Worker Solidarity regains legal status," Maquila Solidarity Network, September 16, 2013, accessed December 20, 2013,
http://en.maquilasolidarity.org/node/1149
.
28.
Rahman, Mustafizur, and Moloy Saha, "[Ready-Made Garment] RMG minimum wage Tk 5,300 from Dec," New Age, Ibid.
29.
Kashyap, Aruna, "Bangladesh: Three Terrible Exclusions," Human Rights Watch, August 2, 2013, accessed December 20, 2013,
http://www.hrw.org/news/2013/08/02/bangladesh-three-terrible-exclusions
.
30.
"Bangladesh: Tanneries Harm Workers, Poison Communities," Human Rights Watch, October 9, 2012, accessed December 20, 2013, http://www.hrw.org/news/2012/10/08/bangladesh-tanneries-harm-workers-poison-communities.
31. "Neil Rolde: Bangladesh, the Triangle Shirtwaist Fire and Gov. LePage," Maine Insights, July 18, 2013,
http://maineinsights.com/perma/neil-rolde-bangladesh-the-triangle-shirtwaist-fire-and-gov-lepage/comment-page-1#comment-41867
Article researched and prepared by Christine H. Kroll, and published at Examiner.com on Dec. 20, 2013.
****************************************************************************************
For permission to reprint articles, please contact: inquiry@columbiapress.org.
How to Cite Any of the Above Articles Using MLA Format:
"Name of Article." Asian-American Forum. Columbia Press, Autumn 2013. Web. Date of Access. <www.blu-geese.org>
How to Cite Any of the Above Articles Using APA Format:
Wong, C. (2013). Name of article. Asian-American Forum, 19. Retrieved from http://www.blu-geese.org/
Past Newsletters
Disclaimer

: Asian-American forum is a free e-Newsletter published by Blu-Geese.org. The views expressed vary seasonally, like the winds, with content subject to adjustments, editing, and revisions. The facts, names, and dates in creative non-fiction works are fictive; all referenced works remain the copyright of their respective owners. For information regarding contributions or permission to reprint articles, contact

inquiry@columbiapress.org
Copyright © 2009-2013 by Columbia Press, All Rights Reserved. (Note: Adblock Edge must be turned off to view recommended books below.)